The 2021 Subaru Love Promise Customer and Community Commitment Award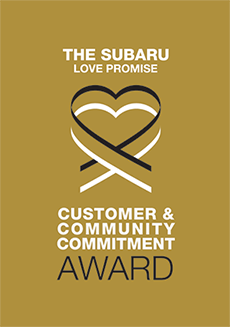 We've been nationally recognized for our dedication to our customers, our community, and the Subaru Love Promise.
We're honored to receive the 2021 Subaru Love Promise Customer and Community Commitment Award. This award nationally recognizes elite Subaru retailers who provide an exceptional customer experience at every interaction with Subaru. These retailers have also demonstrated an outstanding commitment to supporting passions and causes in their local communities in important areas such as the environment, community, health, education, and pets.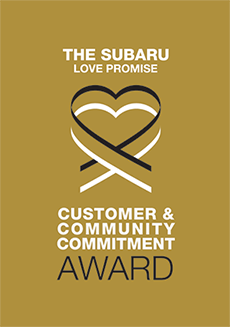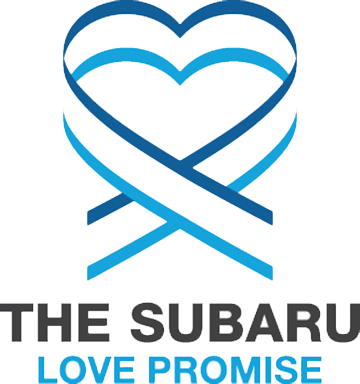 What is the Subaru Love Promise?
Subaru and our retailers believe in making the world a better place and the Subaru Love Promise is our vision of respecting all people. This is our commitment to show love and respect to our customers and to work to make a positive impact in the world.
How is Subaru of Wakefield dedicated locally to the Love Promise?
Our Love Promise can be seen in various partnerships with local charities and non-profits. We're grateful for the opportunity, not only to be a part of our community, but to serve it as well.
Galvin Middle School in Wakefield Ma., Lucius Beebe Memorial Library
Make A Wish , Hallmark Health
Love Promise Stories from Subaru of Wakefield
Subaru and Subaru of Wakefield believe in making a positive impact on the communities in which we live and work. We uphold that belief through our Love Promise Community Commitment. Every month, we select inspiring stories from customers and partners from around our area who strive to support our collective commitment and feature them here
Ziggy! - Joanne W
Ziggy is a 12 yr old long haired chihuahua that we rescued from Boston Animal Control. He was found stray and paralyzed. We were able to do an MRI and found that he had no structural reason for his paralysis so he is now getting Physical Therapy and has a wheelchair to get around in. We could not cover those sorts of expenses for a dog without the help of Subaru of Wakefield. They are donating $3100 ($100 for each of our first 31 adoptions during the month of October 2021)! We are so very grateful. And guess what? Ziggy's family owns a Subaru Ascent! Lucky Ziggy!
---
Samy the K9 Police Dog - Samy S
Sal Barbagallo and Subaru of Wakefield donated K9 Samy, an English Labrador. Samy will serve the community in a unique capacity: as a comfort dog. Her specialized training will allow her to help reduce anxiety in adults and children involved in domestic violence situations, mental health crises, and other traumatic events. Officer Kelley Tobyne, a School Resource Officer, was selected to be Samy's handler. Tobyne's established connection to Wakefield students provides the opportunity for them to have access to the dog when the need arises. Samy is named in honor of Wakefield's Becca Sampson, a friend of the department, who passed away from leukemia in 2018 at age 13.
---
Celebrating 4 years of The Share The Love Event - jonathan C
Every year we have been honored to partner with Make A Wish Massachusetts & Rhode Island as part of our annual Share the Love Event. With your help we have donated over $145,000 to help make some very special kids wishes come true. Enjoy this video thank you from Make-A-Wish Massachusetts and Rhode Island celebrating four years as the Hometown Charity of Subaru of Wakefield.
---
Bringing Hope & Joy to Wish Children - Heather D
As the 2020 Subaru Share the Love Event is underway, we are honored to be selected as the Hometown Charity for the campaign by Subaru of Wakefield for a fourth year. Over the past three years, the dealership and its customers have contributed an incredible $145,000 through the campaign to help children with critical illnesses experience the life-changing joy of a wish fulfilled. We have been hard at work granting wishes for playsets, room redecorations, puppies, online shopping sprees, hot tubs, computers, and more, and we celebrate the compassionate support of the entire Subaru of Wakefield team and its customers in helping to make this possible. Together, we are bringing much-needed joy and hope to wish children and their families!
---
Santa Comes to Wakeifeld - Ann H
Santa visited Wakefield on Saturday, December 12th taking time out of his busy schedule to come and bring holiday cheer to the community of Wakefield. With the help of Sal Barbagallo, Santa was escorted through Town in a bright red 'sleigh'. Sal and Subaru of Wakefield have been wonderful community partners and always step up to join in and sponsor community events.
---
Subaru family - Forever Home Rescue E
Here is a photo from one of our recent adopters who adopted a great pup and also bought a great Subaru!! Thanks again, Subaru for all you do for rescue pets! Joanne W. Forever Home Rescue New England
---
Subaru of Wakefield--helping our dogs - Joanne W
Subaru of Wakefield partnered with Forever Home Rescue New England to help support adoptions in October 2020. With the help of Subaru we were able to adopt out 57 dogs, two of whom had major leg injuries, one found stray and one hit by car. Both dogs required leg amputations, which are expensive. Photos attached. They were both adopted to very happy adoptive families this month. Thank you, Subaru of Wakefield!
---
Sharing the Love to Help Grant Wishes - Heather D
We are so grateful for the tremendous giving spirit of Subaru of Wakefield and its customers through the 2019 Subaru Share the Love Event! As Subaru of Wakefield's "Hometown Charity of Choice" for the promotion, Make-A-Wish Massachusetts and Rhode Island received $46,236 to help grant the wishes of five children with critical illnesses. The promotion also included a toy drive, and wish families were invited to the dealership for fun activities and to share their wish stories. We extend our thanks to every Subaru of Wakefield team member for their great partnership in support of our mission and look forward to gathering as soon as it is safe to do so to celebrate this remarkable generosity! (Photos by Made in Stills)
---
The Angel Fund for ALS Research - Anne H
Sal Barbagallo, Subaru of Wakefield Managing Partner/General Manager was instrumental in helping raise over $40,000 for The Angel Fund for ALS Research. Working in partnership with the organization, The Angel Fund for ALS Research conducted a raffle to win a 2020 Subaru Forester from the Wakefield dealership, the proceeds from which would benefit Dr. Robert H. Brown's ALS research at UMASS Medical School in Worcester. Sal and Subaru of Wakefield have been generous supporters of The Angel Fund for ALS Research, a local nonprofit, having hosted casino nights for the organization in both 2018 and 2019. The dealership is a community-minded business that also supports many local organizations. photo caption:Sal Barbagallo, center, of Subaru of Wakefield, gets ready to draw the name of the lucky winner of a 2020 Subaru Forester along with Subaru of Wakefield staff and Rich Kennedy, left, president of The Angel Fund for ALS Research. Regina Corbin was the winner of the car raffle which raised over $40,000 for the organization.
---
Subaru Loves Rescues - Trish K
It was great teaming up with Subaru of Wakefield, we were able to donate so many many needed supplies to Sweet Paws Rescue. People don't realize it's not just blankets, toys and food these rescues need. Cleaning supplies are always a forgot donation. But Sweet Paws is always happy with anything donated. Helping the helpless, One dog or cat at a time. Thank you again.
---