Consider the sophisticated and sporty Subaru WRX
The Subaru WRX is one of the most popular sports sedans currently at our showroom. We will look at the innovative features of the newest model and the renowned safety and interior features that have made the vehicle popular amongst our Boston drivers for a long time.
The Subaru WRX currently has five different models: WRX, WRX Premium, WRX Limited, WRX STI and WRX STI Limited. Except where otherwise specified, the following specs apply to all five models:
180.9 inches long; 70.7 inches wide; 58.1 inches high
Wheelbase 104.3 inches
Highway driving: Up to 27 miles per gallon; City driving: up to 21 miles per gallon in city driving.
Fuel capacity of 15.9 gallons
LED headlights on some models
Heated side mirrors.
Performance
All Subaru WRX models 286 horsepower. The SRT and SRT Limited have higher power capability, reaching a maximum of 310 horsepower. Similarly, all models can carry up to 258 pound-feet of torque, while the SRT and SRT Limited can carry up to 290 pound-feet of torque.
The standard maximum boost pressure is 15.9 psi, but for the SRT and SRT Limited, the maximum boost pressure is 16.2 psi. All-wheel-drive is continuous for the standard models. For the SRT and SRT Limited, however, all-wheel-drive is controlled by the driver. Furthermore, variable torque distribution all week drive is optional for the Premium and Limited models.
Safety and Security
The Subaru WRX is known for some of the most innovative and useful features for safety and security among all sport sedans. The steering area is designed to collapse when necessary to absorb energy. Adjustable height of head restraints in the front seats ensures a reduction of impact to avoid whiplash.
A LATCH system ensures the safety of any children riding in the back seat, making it easier for parents to install the car seat into the vehicle. The vehicle is equipped with all-wheel antilock brakes, brake override system, and a brake assist feature to make sure that you are ready to stop suddenly and safely whenever necessary around North Reading. A camera is installed that offers you a rearview to help you see what would otherwise be a blind spot.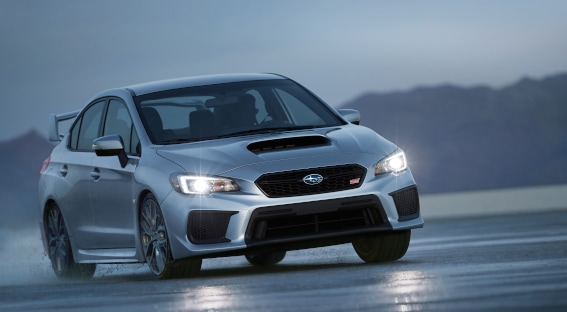 Security features in every model of the Subaru WRX include the following:
StarLink security system activated whenever someone approaches too close to your vehicle
Keyless entry.
Technology to help you find your vehicle in large parking lots
In addition to the many safety and security features above, premium features are also available optionally or within particular models. High beam assist, reverse automatic braking blind-spot detection, alerts when swerving lanes, and rear cross-traffic alerts are all optional for the WRX Premium. The last three listed are also standard for the WRX STI Limited.
The StarLink Safety and Security system offers many technological advances to protect your car and all its occupants; WRX Limited, WRX STI, and WRX STI Limited are all equipped with this device as a standard safety feature. Finally, EyeSight driver assistance technology is optional for WRX STI and WRX STI Limited.
Interior and Technology
When you fold the rear seats down you can create more trunk space whenever you need more storage room. Comfort in the vehicle is optimized through a shifter handle wrapped in leather and pedals covered with aluminum alloy. Cup holders for up to four passengers, along with bottle holders keep occupants supplied for long trips to and from Belmont.
All models are equipped with the following technological features:
Multi-function display panel
Lighted glove compartment that can be locked
Automatic climate control
Two USB ports
Trims
Five trim options are available for the latest Subaru WRX models. The base, Premium, Limited, STI, STI Limited. The Premium CTV and Limited CTV both have automatic transmission. A 2.0-liter turbocharged Subaru Boxer engine is standard for the manual trims.
The premium and limited trims, however, include a 2.5-liter turbocharged Subaru Boxer engine. Likewise, the Premium and Limited models are capable of more torque. The manual trims are capable of up to 258 pound-feet of torque, while the Premium and Limited trims are capable of up to 290 pound-feet of torque. Because of the differences in engine power, the manual trims are more fuel-efficient at 27 MPG in highway driving or 21 MPG in city driving. The Premium trims, on the other hand, average 22 miles per gallon for highway driving and 17 miles per gallon for city driving.
Test Drive a Subaru WRX
When you're ready, we invite you to swing by our Subaru dealership near Wakefield and we can show you what the Subaru WRX has to offer. If you want to really get a feel of the WRX we can even set you up with a test drive around Danvers.