Find Out More About the New 2020 Subaru BRZ in the Boston Area
Can you picture yourself behind the wheel of a race car? If so, our staff in the Danvers area think you might be interested in the New 2020 Subaru BRZ. With its sporty styling and iconic Subaru engineering, this coupe turns your daily drives into an adventure.
Meet the BRZ
There's one word that comes to mind immediately when you see the BRZ: sporty. From the aerodynamic contours of the hood to the sleek, continuous curve of the roof, this is a car that's made to stand out on the streets of Belmont. Each component is designed for both aesthetics and performance, which means that you can look great and enjoy the ride.
To make the trip even more fun, the BRZ is designed with an exceptional handling system. The low center of gravity creates a stable feeling, even when you're taking sharp turns or testing the top speed. Rely on the quick-ratio steering to respond immediately to each move, and trust the sport-tuned suspension to deliver a fun, dynamic ride. Plus, since you can choose from a manual or automatic transmission, the BRZ is easy to customize to your preferences.
New Subaru BRZ Inventory
Sorry, no items matching your request were found.
Reset Search
Smart Safety Systems
All of this power comes with responsibility, and the BRZ has you covered. Every model is equipped with Vehicle Stability Control technology. This system makes use of a network of sensors that are spread throughout the car; as you drive, the sensors continuously collect information about your speed, braking, yaw, steering, g-forces, and more. When you start to take a different path, the BRZ adjusts its brakes and the engine torque to keep you on track. You'll also get an anti-lock braking system on all four wheels to reduce the chance of wheel slip.
No matter where you go, the BRZ is engineered for security. Daytime running lights help other drivers see you in any light. Inside, a sophisticated system of dual-stage deployment airbags is constantly at the ready; in case of impact, they absorb the force to keep you safe. The tire pressure monitoring system makes it easy to maintain safe air pressure, and the adjustable active hear restraints shift to match your height. Thinking about taking a little one along for the ride? The LATCH system makes it easy to strap in a child seat securely.
Smart Technology for a Convenient Ride in North Reading
Whether you're heading out on the open road or simply driving across town, the BRZ's smart technology makes the journey more fun and connected. Every model comes standard with the Subaru STARLINK multimedia system, which includes a touchscreen display for effortless control.
Do you use an Apple or Android phone? You'll love the standard Apple CarPlay® and Android Auto™- just use a USB cable to connect your phone, and watch as your entertainment, navigation, and communication apps show up on the in-dash screen. That way, you can choose a soundtrack or get direction via the touchscreen, which is a must, particularly when you're driving in areas with strict cell-phone laws.
Can't take your eyes off of the road? Use the voice command system to make calls, choose music, send texts, get directions, and more. Since the BRZ features two USB ports, you'll arrive with a fully-charged phone.
In front of the steering wheel on the BRZ, a handy multi-function display keeps you updated on everything that's happening in the vehicle. Monitor the G-forces as you go around a tight curve or watch the lap time readout to see how you're doing. Thanks to the small, leather-wrapped steering wheel, you can stay in control even on the curviest of roads.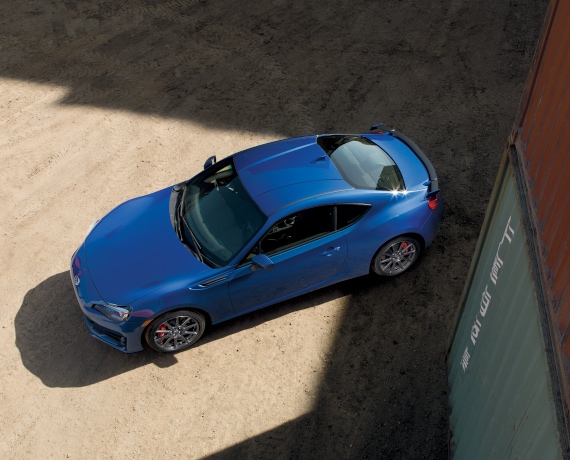 BRZ Trim Levels
The Subaru BRZ is available in Wakefield in two trim levels.
Subaru BRZ Limited
The entry-level BRZ is the Limited. Under the hood of this option, you'll find a 2.0-liter Subaru BOXER engine with a four-cylinder layout. If you choose a manual transmission, this model delivers a spectacular 205 horsepower and 156 pound-feet of torque. Prefer an automatic? The Limited is the right choice for you - it's available with a six-speed model. If you're concerned about fuel economy, this is a great choice; it offers an EPA-estimated 33 MPG on the highway and 24 MPG in the city. The manual transmission offers 29 MPG on the highway and 21 MPG in the city.
As you drive, the BRZ's Vehicle Stability Control and Traction Control technology keep you safe and in control. This model also features a sport-tuned four-wheel independent suspension, which uses a double wishbone stabilizer for an easier, smoother ride. You can also upgrade the Limited to a suspension that's equipped with Sachs performance shock absorbers for even more finely tuned performance. This model comes with ventilated disc brakes on all four wheels, as well as electronic brake force distribution.
Subaru BRZ tS
The premium model of the BRZ is the tS trim. This is a car that's engineered for performance - to start it's only available with a manual transmission. To enable you to tackle tough drives with greater confidence, this model comes with STI-tuned vehicle stability control. This special system features ultra-sensitive sensors and smart technology for a better, safer ride.
Brembo performance brakes come standard, so you can take advantage of top-notch stopping power. Using four-piston calipers on the front and two-piston calipers on the back, this system is engineered to keep you in command. Particularly impressive are the sizes: the front brakes as a whopping 12.8 inches, and the rear brakes come in at 12.4 inches. In addition, Sachs performance shock absorbers come standard to give you a more comfortable ride.
Test Drive the New Subaru BRZ in Wakefield
Ready to check out the BRZ for yourself? Call or email Subaru of Wakefield, and we'll schedule a test drive so you can see how this coupe fits into your trips in the Boston area.