Subaru Car Repair in Greater Boston - Subaru of Wakefield Service Center
For high-quality car repair, please visit our greater Boston Subaru car repair center, a member of our service staff will correctly identify and fix your vehicle's problem. Our skilled auto technicians have the expertise and experience to get your car, truck, or SUV into top condition; whether it needs a new muffler, fluid change, alignment, or tune-up.
Subaru of Wakefield is conveniently located at 618 North Ave in Wakefield.The staff at our greater Boston Subaru dealership's car repair center are ready to work for you. Schedule an appointment today by filling out our online service appointment form, or give us a call at (888) 672-2184.
Why Use Genuine Subaru Service?
Safe Hands For Your Subaru
There are plenty of places where you can get your Subaru serviced but only one knows your Subaru inside out. It took some of the finest minds in Japan to build this incredible vehicle. Don't let just anyone tinker with it. Entrust it to a Subaru trained professional.
The Training Never Stops
No one knows Subaru like Subaru. Not only have our technicians had years of Subaru professional training, they're also the only true experts on the latest Subaru technology  like Subaru Intelligent Drive (SI-Drive) and the new direct-injected Boxer turbo engine powering the new generation Forester XT. We invest in them so you can be assured that you are dealing with the best.
Subaru Diagnostics & Our Tools
Along with their skilled craftsmanship and use of Genuine Subaru Parts, Subaru technicians have access to the Subaru Diagnostics System (SDS). This state-of-the-art analytical tool gives Subaru technicians an electronic snapshot of your car's engine management system, airbags and instrument panel, allowing them to provide vehicle-specific solutions and updates from a worldwide database.
To ensure that your Subaru is always performing at its peak, we connect the SDS to your vehicle during every scheduled service. This allows us to download the latest software update into your vehicle from the Subaru factory in Japan.
The Performance
During any scheduled service, Subaru technicians focus on preserving and enhancing the performance of your car by completing a comprehensive factory-approved performance checklist. This checklist includes the performance of your engine, steering and transmission. It means your service may include replacing your engine oil, oil filter and spark plugs, rotating your tires and replacing your transmission fluid.
The Safety
Another focus of your scheduled service will be on preserving and enhancing the safety of your car by completing a comprehensive factory-approved safety checklist. This includes the safety of your brakes, exhaust system, suspension and electrical system. As a result, your service may include replacing front brake pads, inspecting exhaust for security and leaks, replacing front wheel bearings and checking headlight operation.
The Retained Value
By servicing your car at an authorized Subaru Service Center using Genuine Subaru Parts, you get more than just peace of mind. You'll also have the reassurance of a full Subaru service history to further help safeguard the ongoing value of your investment.
Your privacy is important to us.
Subaru of Wakefield takes your privacy seriously and does not rent or sell your personal information to third parties without your consent. Read our privacy policy.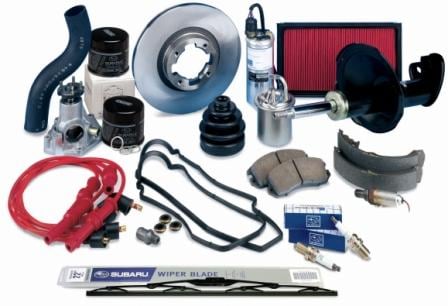 We only use genuine Subaru Parts
Service Hours
Monday

7:00AM-6:00PM

Tuesday

7:00AM-6:00PM

Wednesday

7:00AM-6:00PM

Thursday

7:00AM-6:00PM

Friday

7:00AM-6:00PM

Saturday

7:00AM-4:00PM

Sunday

Closed
See All Department Hours
Dealership Hours
Monday

9:00AM-6:00PM

Tuesday

9:00AM-6:00PM

Wednesday

9:00AM-6:00PM

Thursday

9:00AM-6:00PM

Friday

9:00AM-6:00PM

Saturday

9:00AM-6:00PM

Sunday

Closed
Parts Dept. Hours
Monday

7:00AM-6:00PM

Tuesday

7:00AM-6:00PM

Wednesday

7:00AM-6:00PM

Thursday

7:00AM-6:00PM

Friday

7:00AM-6:00PM

Saturday

7:00AM-4:00PM

Sunday

Closed
Service Dept. Hours
Monday

7:00AM-6:00PM

Tuesday

7:00AM-6:00PM

Wednesday

7:00AM-6:00PM

Thursday

7:00AM-6:00PM

Friday

7:00AM-6:00PM

Saturday

7:00AM-4:00PM

Sunday

Closed