Spring Has Arrived! Now is the time to tackle the simple maintenance tasks that keep your Subaru in top running condition

Does Your Car Need a Tune-up?
A couple of years have passed since you had your Subaru tuned up. But is it really running smoothly? As you drive each day, observe any changes in its performance. There may be good reasons to get a tune-up sooner than you think. If you are used to do-it-yourself maintenance, some of today's computerized controls may not make possible problems as obvious to you as they were in the past. That's why preventative diagnosis is so important to keep your Subaru running trouble-free for years.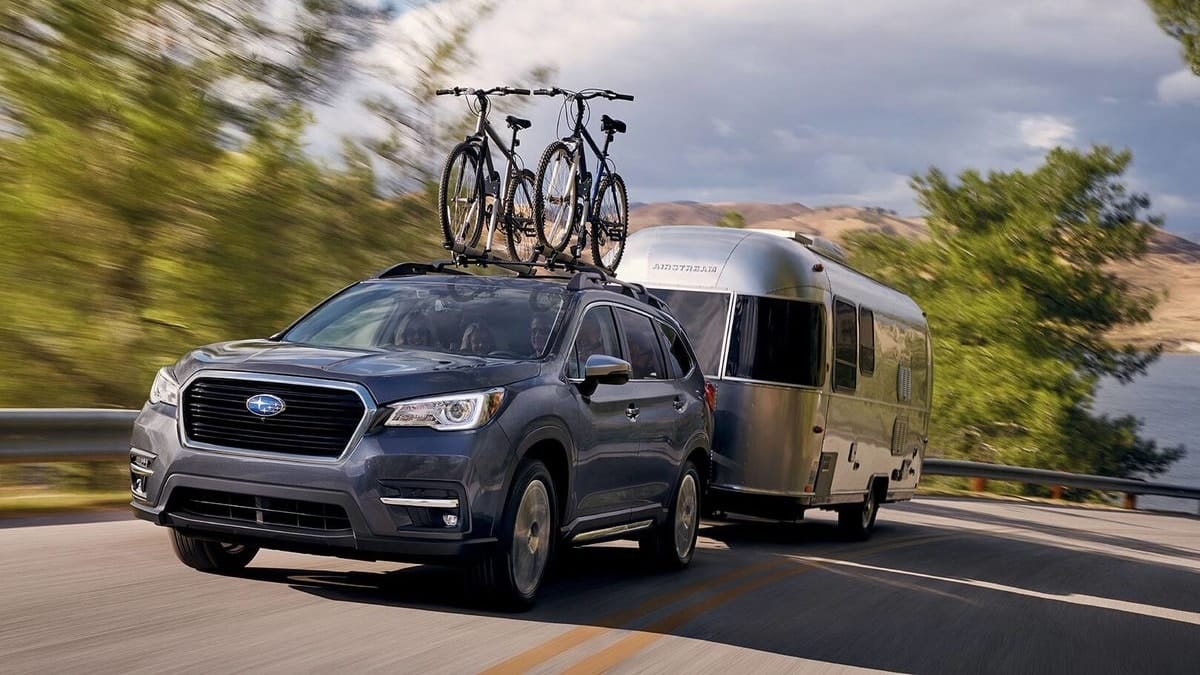 Don't Ignore Small Warning Signs! Take preventative measures before there are problems ...    
Hard Starting. The most common car trouble, usually due to neglected maintenance. If the starter cranks the engine, the electrical system is probably okay. The problem could be as simple as a starting sensor (or the choke mechanism if applicable).
Knocking. A noise usually heard when the engine is "under load," like during acceleration or climbing a hill. It can be caused by inferior fuel, but is often a sign your engine needs attention. Many cars now have knock sensors built in to correct minor problems, but they can't compensate for larger malfunctions that could result in engine damage.
Rough Running. This can be caused by a problem in the fuel or ignition system, or by a troubled valve or piston. Tell your technician when it occurs: When idling? During acceleration? At all speeds?
Poor Gas Mileage. Keep track of your mileage. Changes may be due to underinflated tires, engine running too cold, transmission malfunction, dragging brakes or misaligned wheels.
Stalling. Causes can include incorrect idle speed, adjustments, malfunctioning sensor or switch, dirty fuel system parts, worn spark plugs or other engine deficiencies. Take note: Does the engine stall when hot? Cold? With air conditioning on?
Dieseling. Also known as "after-run." The engine keeps chugging and coughing for a few seconds after you shut off the ignition. Causes can range from inferior gasoline and high idle speed to carbon in the combustion chamber.
Power Loss. A dirty fuel filter commonly causes power loss. Preventative maintenance can help.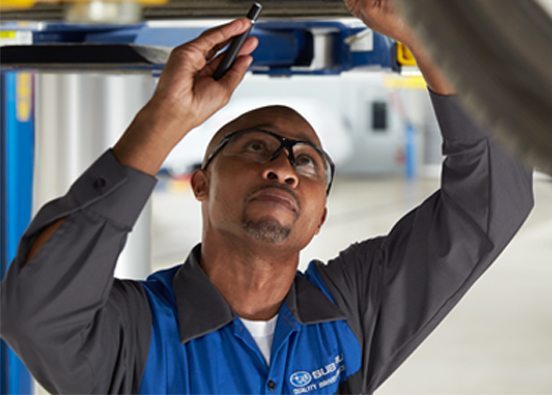 Wipers, Washers, Horn And Lights. Be sure to check the operation of your car's wipers, windshield washers, horn and lights. Tip: Isopropyl alcohol makes wiper blade clean-up a snap! You might take them for granted -- until it rains or snows and suddenly your safety depends on them. Windshield wipers always need to stay in top condition because you never know when you'll need them to help you see the road. Wipers take a beating from extreme temperatures, acid rain, road salt, sand, and ice scraper abuse. The rubber can crack, split, tear, become contaminated with road film or chemicals or warp from long exposure to heat, cold or ice. Improvements are being made in blade materials, but air pollution still takes its toll. You can clear up many windshield problems by replacing the blades. If water beads up on the glass, or if wiper action creates a hazy, oily film, clean the glass and replace the blades. Beading and hazing are most often caused by car wax build-up or driving behind a vehicle that was losing brake fluid or engine oil. If wipers leave streaks or "skip" on each stroke, the arm may be bent or applying incorrect pressure. Blades and arms should be inspected every four to six months. Meanwhile, every time you wash your car (weekly, hopefully), clean the rubber blade with a mild detergent and rinse with water. You'll remove most pollutants attacking the rubber, help increase blade life and reduce windshield smearing. If taking a rear wiper-equipped Subaru through a commercial car wash, temporarily tape the rear wiper to the glass to avoid damage during the wash. 

Battery. All Subaru vehicles are equipped with maintenance-free batteries. The term "maintenance-free" can be misleading - as these batteries do require some attention to maintain their cleanliness and efficiency.It is extremely important to have your car's battery checked by a Subaru-trained technician regularly. A battery check will include an examination of cable connections for cleanliness and tightness. Loose or corroded connections can dramatically diminish your car's starting power; and if the connections grow loose or crusty enough, they can shut off your car's electrical flow entirely and leave you thinking you have a dead battery. High temperatures also reduce the efficiency at which a battery is recharged. Fall/Winter driving conditions frequently require the use of A/C for extended periods while driving at slow speeds. This additional load requires the charging system to work properly so that it sufficiently charges the battery the next time you start your car's engine. For this reason, your service technician should also check your battery's charging system and voltage regulator, and inspect your vehicle's alternator to ensure that all components are operating properly. Check your battery terminals regularly, removing any corrosion with a toothbrush and a mix of baking soda and water.
Coolant. Check the level of coolant in your radiator by looking at the coolant overflow tank. Maintaining a 50/50 mix of antifreeze will keep your engine cool in hot weather and prevent damage when temperatures fall as low as 40 below zero. Note: Do not remove the radiator cap until the engine is turned off and has cooled down. maintaining your car's fluid levels is an easy way to help ensure that your Subaru runs smoothly between service visits.Before checking, always stop the engine, remove the key from the ignition switch, set the parking brake and let the engine cool down completely. Take care not to spill any engine oil, engine coolant, brake fluid or any other fluid on hot engine components. Use your Owner's Manual as a guide for more details and to locate specific engine parts. Check your car's coolant level on the outside of the reservoir while the engine is cool. If the level is close to or lower than the "LOW" mark, add coolant up to the "FULL" mark. If the reserve tank is empty, remove the radiator cap (Do not open when the radiator is hot!) and refill as required. After filling the reserve tank and the radiator, reinstall the caps and check that the rubber gasket inside the radiator cap is in the proper position. Important: Use the coolant recommended in your Owner's Manual only. Use of other coolants may result in corrosion.
Oil.Depending on the driving conditions your Subaru is subjected to, change your oil and filter as recommended in your Owner's Manual. Also, use the recommended oil grade.  Park your Subaru on a level surface and stop the engine. Pull out the dipstick, wipe it clean, and insert it again until it stops. Pull out the dipstick again and check the oil level on it. If it is below the lower level, add oil to bring it up to the upper level. Important: Use only engine oil with the grade and viscosity recommended in your Owner's Manual. Road dust, fuel system condensation and engine-oil sludge are unseen enemies that can cause harm to your engine, or prevent it from working at its best. Your best defense? Visit your Subaru dealer for genuine Subaru filter replacements to help ensure that your engine lives a healthy, high-mileage life. Refer to your vehicle's Warranty and Maintenance Booklet for recommended maintenance schedules. Motor oil circulates through your engine to lubricate all the moving parts. Along the way, dirt, grit and fine metallic and carbon particles contaminate motor oil and, if improperly filtered out, may ruin your engine. Today's high-detergent oils are formulated to suspend contaminants until they can be effectively trapped by the oil filter. Regularly changed oil filters protect your engine by removing the suspended particles from your motor oil. Today's sophisticated fuel injection systems demand clean fuel in order to run smoothly. From the gas tank to your engine, fuel can pick up contaminants like dirt and condensation. If these contaminants are not properly filtered out they will cause reduced engine performance, rough idling and may eventually damage the sensitive fuel injection components. Fuel filters changed using the recommended maintenance schedule can help you avoid expensive repairs. 

Belts. With the engine off, check your car's belts for cracks and missing pieces. To check for proper tightness, press down on the belt with your thumb. If the belt gives more than half an inch, it needs tightening.

Hoses. When the car is cold, feel your car's hoses for bulges, cracks, soft spots or brittleness. With the engine running, look for (but don't touch) bulges or leaks. If you detect any, have the hose replaced. Note: Avoid replacing air conditioning hoses yourself. Their pressurized gases can cause serious injury.
Power Steering Fluid. To check, pull out the dipstick, wipe it clean, and insert it again. Pull it out again and check the level. If it is below the HOT range, add the recommended steering fluid up to the upper level mark. Note: If the fluid level is extremely low or fluid has been replaced, contact your Subaru dealer.
Brake Fluid. Check the fluid level on the outside of the tank using the lines on the reservoir as a guide. If the level is below MIN, add brake fluid from a sealed container to bring it up to MAX. You'll notice a significant drop in fluid levels when there's a leak. Note: Brake fluid absorbs moisture from the air. Any absorbed moisture can cause a dangerous loss of braking performance. If your brake fluid tank requires frequent refilling, there may be a leak. Contact your Subaru dealer immediately.
Air Filter. Again, depending on the condition of the roads traveled by your Subaru, routinely check your air filter for accumulated debris.Your engine needs a great deal of air to run properly. If air is not properly filtered, dust and other suspended particles get into the combustion chamber where they may become lodged between the piston and cylinder wall, causing wear. This may result in loss of acceleration, decreased power and lower gas mileage.Remember, ALWAYS insist on genuine Subaru Filters - your best defense against the most abusive elements.
Check Engine Light When you start your vehicle, the check engine light comes on momentarily to test the engine/emission control system and bulb. The system is self-diagnostic and the light is a way to communicate trouble. The system is designed to function in a "limp home" mode when trouble occurs and the light comes on - and stays on. However, take your vehicle to an authorized Subaru dealer right away. The technicians have specialized tools and training to access trouble codes stored in the vehicle's memory each time the light is illuminated. This is a sophisticated system, with the ability to detect and store information about even the slightest changes. One item which may seem insignificant but which can cause the system to detect trouble is a loose or missing fuel filler cap. Remove the cap, then tighten it until it clicks. If you are unsure whether the loose cap was the cause or if the light stays on, visit your Subaru dealer. The light also can come on if you have installed electrically powered accessories (such as a radar detector or keyless entry system) that aren't compatible with your vehicle's systems. If the light comes on and such accessories are installed, Subaru technicians may need to disconnect them before any further diagnosis can take place. Subaru-approved accessories are thoroughly tested to prevent such problems.
Tires. Check your tire pressure (with tires cold) once a month or more. Keep tires inflated to manufacturer's recommendations, which can be found on the driver's side door frame placard and in the owner's manual. To extend tire life, keep wear uniform, and help ensure that you don't get stranded at the roadside, have your car's tires rotated if they haven't been within the last 7,500 miles. Any unevenly worn or damaged tires should be replaced. Also, check and adjust your tire pressure according to the tire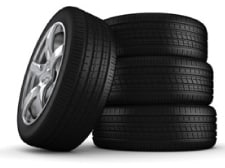 We all know that tires wear. There are certain things you, as an owner, can do to help minimize this wear.Keep your tires properly inflated.
This is perhaps the single most important thing you can do. Information on correct tire inflation pressure is provided in your owner's manual and on a placard on the driver's door pillar. How often you check your tire inflation is up to you. As a rule of thumb, tires should be checked every time you fill your car with gas. Remember that tires should be checked when cold since tire pressure will increase as the tires warm up.
Rotate your tires regularly.
SUBARU recommends tires should be rotated every 7,500 miles. These are recommended intervals only. Your actual driving conditions may warrant more frequent rotation. Factors such as road surfaces, driving techniques/habits, vehicle loading, and weather, to name just a few, can all have an effect on tire wear.
Tire Replacement.
The wheels and tires are important and integral parts of your vehicle's design; they cannot be changed arbitrarily. The tires fitted as standard equipment are optimally matched to the characteristics of the vehicle and were selected to give the best possible combination of running performance, ride comfort, and service life. It is essential for every tire to have a size and construction as well as a speed symbol and load index matching those shown on the tire placard. Using tires of a non-specified size detracts from controllability, ride comfort, braking performance and speedometer and odometer accuracy. It also creates incorrect body-to-tire clearances and inappropriately changes the vehicle's ground clearance. All four tires must be the same in terms of manufacturer, brand (tread pattern), construction, and size. You are advised to replace the tires with new ones that are identical to those fitted as standard equipment.
For safe vehicle operation, SUBARU recommends replacing all four tires at the same time. WARNING: All four tires must be the same in terms of manufacturer, brand (tread pattern), construction, degree of wear, speed symbol, load index and size. Mixing tires of different types, sizes or degrees of wear can result in damage to the vehicle's power train. Use of different types or sizes of tires can also dangerously reduce controllability and braking performance and can lead to an accident. Use only radial tires. Do not use radial tires together with belted bias tires and/or bias-ply tires. Doing so can dangerously reduce controllability which can result in an accident.Spring