Subaru of Wakefield wants all our customers to have the latest technology. Every new Subaru or pre owned car we offer for sale now comes with Nitrogen filled tires your benefit from NitroFill. You may be asking yourself what is the advantage of having tires filled with Nitrogen instead of Oxygen?
Better Fuel Economy, Longer Tire Life, Enhanced Safety,
a Smaller Carbon Footprint… and So Much More.
Replacing the air in your tires, and properly maintaining them with Nitrogen can increase your tire life by as much as 50%, increase your fuel economy as much as 10%, decreases false alarms from tire pressure monitoring systems and decrease your chances of experiencing a tire failure by as much as 75%… all while reducing your carbon foot print.


As a added benefit we provide you with a year free service from NitroFill


* 24 Hour Emergency Towing Service
*Tire Repair & Replacement
*24 Hour Emergency Battery Service
*Lost Key or Lockout Service
*Travel Benefits
*Theft and Hit & Run Protection
*Trip Routing Service

*Trip Interruption Coverage
*Please contact Service Dept for details and available upgrades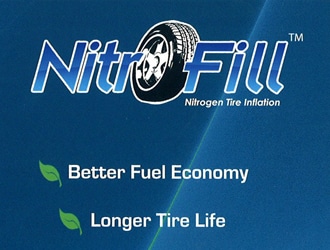 Plant a Tree Program