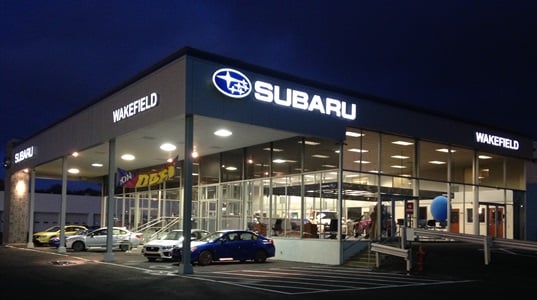 There are a lot of different factors that go into deciding which vehicle is going to be the one you get behind the wheel of and deciding which car you buy is just as important as where you buy your next vehicle. With so many different dealerships in the Danvers area to choose from you may be wondering what makes Subaru of Wakefield the best place for all of your Subaru needs? And the answer is our service, our selection, and the savings.
Selection
We pride ourselves on our large selection of Subaru models and separates us from other dealerships around North Reading. So whether you are shopping for a new Subaru or a high-quality pre-owned vehicle we have something for everyone and if we don't, we will get it. Our new inventory of Subaru models features the brand new Subaru Ascent which is making a name for its self as the best 3-row family SUV. We also have a great selection of thrilling WRX models for those drivers looking for something exciting. Not everyone is looking for a new vehicle and Subaru's make the best pre-owned cars on the road. Subaru is well-known among Belmont drivers for amazing, long-lasting quality that easily reaches the 200,000-mile mark. To find the new or used Subaru for you stop by Subaru of Wakefield today for a test drive and experience why there are so many Subaru's driving around Boston.
Service
Shopping for a car is a big investment and something that you shouldn't be rushed into making. Our amazing sales team takes the time to get to know our customers to better find the new or used Subaru that meets their needs and budget. We believe that there is no such thing as going the extra mile because our job isn't done until you are 100% satisfied. And the same goes for our service center. Our technicians and service advisors care deeply about your safety and work hard to provide the highest level of customer care and service as well as make sure your Subaru is in excellent condition.
Savings
Raise your hand if you like to save money. Doesn't matter on what, you just like to save money. Here at Subaru of Wakefield, we are constantly looking for new ways to help our customers save money on just about everything. We offer rotating new and used specials were we feature a handful of Subaru models at discounted prices. So you can shop for your next Subaru by how much you can save. We also have saving opportunities on parts and service to keep your Subaru running at its best for many miles to come.
Giving Back To The Community
Here at Subaru of Wakefield we know that we wouldn't be where we are today without you, our valued customers and Subaru lovers. Which is why we strive to not only provide a one of a kind car buying experience but to also give back to our community to ensure our local community continues to grow and develop. All year long we are working hard to support different members and organizations of the Wakefield and Boston area.  We are honored to be able to make a difference in so many different areas and initiatives by showing our love with book, toy, and school supply drivers to help those in need. As well as working with life-changing charities that include The Angel Fund for ALS Research, Make A Wish, and the Leukemia & Lymphoma Society. When you shop for your next new or used Subaru here at Subaru of Wakefield you are also supporting your local community and we would like to thank you for your support.
Hours
Monday

9:00AM-7:00PM

Tuesday

9:00AM-7:00PM

Wednesday

9:00AM-7:00PM

Thursday

9:00AM-7:00PM

Friday

9:00AM-6:00PM

Saturday

9:00AM-6:00PM

Sunday

Closed
Directions
Get Directions