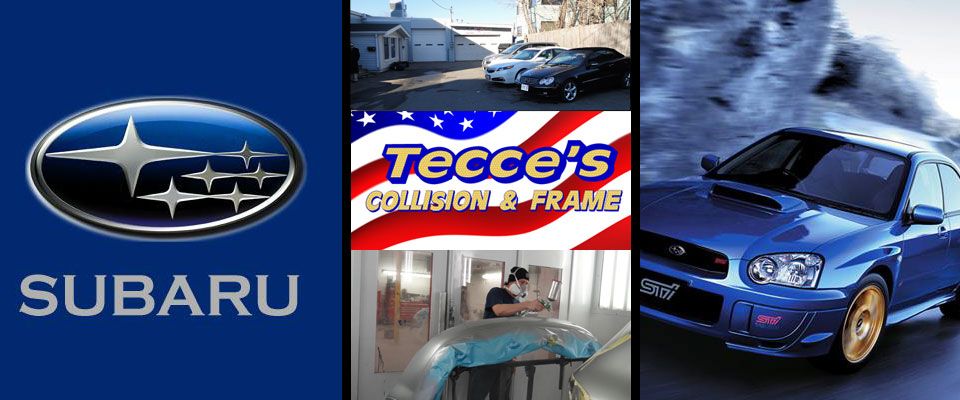 We are the official & trusted collision repair facility of Subaru of Wakefield!

Get Safely Back on the Road in Boston, Wakefield, Belmont, Danvers and North Reading
Here at Subaru of Wakefield, we know that accidents happen.  With unpredictable road conditions and weather, fender benders and collisions are, oftentimes, unavoidable.  Thankfully, all is not lost! Our auto body shop team is standing-by, prepared to assess the damage and make the necessary repairs.  Highly-trained, Subaru-specific technicians will ensure that you leave our dealership with a vehicle that you can count on.
If your new or pre-owned Subaru needs some attention, swing by our Auto Body shop for some quality care.  In addition, our Service Center and Parts Department are available for your vehicle's upkeep.  Check out our service specials and parts specials before scheduling your next appointment.  Let's keep your Subaru running at its very best in Wakefield, MA.
FAQ: "What should I do if I have been involved in an accident?"
In case of an accident we want you to be well informed and prepared.
DO:
Stop your vehicle immediately. Write down the license number of the other vehicle.
Show your driver's license and registration to the other driver and the police officer.
If anyone is seriously injured call an ambulance. You should see a doctor if you feel injured in any way.
Report the accident to the Department of Motor Vehicles as soon as possible.
Write a complete description of the accident as soon as possible. Doing this immediately will help keep the accident details fresh in your mind. Click here for an accident record to help you gather important information.
Notify the insurance company even if the claim appears small and there are no apparent injuries. Settling the claim yourself is dangerous. Follow all prescribed procedures when reporting an accident to your insurance company.
Be aware of the "Appraisal Clause" in your insurance policy. If the insurance company and the body shop cannot agree on what the repairs should cost, this could provide means for fair settlement.
Have even minor damage repaired. Letting your car go without repair can cost you in the long run. Dents and rust spots deduct from the value of your car. You will pay for it eventually, so drive a car that is in first class condition now.
DON'T:
Never discuss accident details or responsibility with anyone. Don't discuss accident circumstances with anyone except the police and your insurance representative.
Never agree to a phone recording or give a signed statement to the claims adjuster representing the other driver's insurance company. If you feel you're being pressured, you may wish to consult an attorney.
Never accept a check for the repair of your car until you're sure it covers all necessary repairs. You are the person who is responsible for having your car repaired to your satisfaction. Choosing a quality repair shop is important; you should not be rushed into a decision.
Please don't be fooled by a lower estimate. A lower bid could reflect an incomplete job. When items are overlooked on a repair the consequences to the driver can be serious. Exercise your right to determine which shop repairs your car. Make sure every detail has been attended to and repaired to your satisfaction before signing an insurance company release.
Never allow your car to be towed to an unfamiliar repair shop. Don't authorize repairs by signing a towing release unless you decide to have the repairs made by the shop your car is being towed to. Make sure you read and understand all papers before you sign them.